La Densitae hair transplant clinic in Pune is well-known for hair loss treatments and best hair transplant in Pune. Established in 2012, we have introduced innovative hair transplant techniques which have proved to give guaranteed results in a comparatively shorter span of time. We have a team of highly qualified and experienced hair transplant doctors who are efficient in performing hair transplant treatment with proper care and safety.
At La Densitae hair transplant centre in Pune, we have successfully performed over 4500 hair transplants in the last 9 years. We maintain proper safety and hygiene protocol required for a hair transplant surgery. We have the latest FDA approved technology and equipment at our state-of-the-art operation theatres. We assure you that the moment you enter our centre, your baldness problem will be taken care of.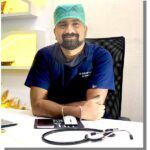 Dr. Gajanan Jadhao established this clinic to treat people suffering from hair loss and hair baldness. He is an experienced hair transplant surgeon in Pune having 8+ years of experience. Dr. Jadhav is known to do maximum hair grafts in a single session. He has completed his trichology/hair transplant studies from the University of Germany. Over the years, he has acquired expertise in the latest hair transplant techniques. He is famous for providing result-oriented hair transplant in Pune.
Types of hair transplant and hair loss treatment available at La Densitae
Follicular Unit Extraction (FUE)
This is a newer method of hair transplant in which each hair follicles is removed from the donor region one by one using a punch tool and implanted one by one onto the bald area. Unlike FUT the scars are less visible and the recovery time is shorter.
Follicular Unit Transplantation (FUT)
This is a more traditional/oldest method of hair transplant. In FUT transplant a thin strip of hair is removed from the donor region this causes forms one linear scar that may leave a thin scar which is covered by the high-density hair growth in that area of the scalp.
Real-time Non-touch FUE
We have innovated Real-Time Non-touch FUE to reduce the hair graft harvesting time, avoid the use of chemical substances to retain grafts before implantation, and decrease the cost of the procedure as required in the DHI hair transplant procedure. RT-FUE includes side-by-side extraction and implantation of hair follicles. Therefore, it is known as the Real-Time FUE as there is no delay in the follicle extraction and implantation step.
Advanced Non-touch Bio FUE
We at La Densitae offer AFUE hair transplant which includes a combination of FUE hair transplant and Platelet enriched plasma. During this procedure, the doctor will extract individual hair grafts from the donor area and leave them in the Platelet enriched plasma solution for some time to nourish and promote the survival of the grafts. It is among the most recommended hair transplant techniques at our clinic for its outstanding results.
What is the cost of hair transplant in La Densitae?
Hair transplant in La Densitae cost will be determined depending on the various factors such as the type of hair transplant used, the experience of the surgeon, number of grafts, etc.
The cost per hair graft here is between ₹35 to ₹150.
The hair transplant cost in Pune differs from person to person depending on the level of baldness and the number of grafts required to cover the bald. We use different techniques depending on the scalp's health and the desired expectation of the patient, which in turn affects cost.
Successful Hair Transplants done at La Densitae–Pune
Patient Mr. Hemil consulted Dr. Gajanan Jadhao for his baldness issue. After performing a trichoscopy test, and pull test, he was diagnosed with alopecia areata.
Dr. Jadhao performed Advanced No-touch Bio-FUE hair transplant on Hemil. Within 9 to 12 months, Hemil was delighted to see the natural and denser hair growth on his bald area which enhanced his overall look. To read more about this case, click here.
Patient Mr. Aniket visited our clinic with the problem of excessive hair loss and baldness. After performing tests, Dr. Gajanan Jadhao diagnosed that he was suffering from the hairline recession.
Dr. Jadhao performed surgery of 3000 grafts using the Advance non-touch bio-FUE technique of hair transplantation technique. Within the next 9 months, Aniket successfully achieved denser hair growth on his affected area. To read more about this case, click here.