In Kerala, many people are suffering from excessive hair loss and baldness. It affects your looks and hinders your confidence. One of the best procedures through which you can overcome hair loss is a hair transplant in Kerala.
Hair transplantation is a gift of modern science that has made hair restoration possible. It is a surgical method that includes moving of hair follicles from the donor area to the recipient region.
La Densitae Hair Transplant Centre offers the best hair transplant in Kochi, Kerala at an affordable cost. Till date, we have performed 4456+ hair transplants. Also, we have satisfied more than 5054 patients with our 17 different services.
At La Densitae, we provide excellent hair loss treatments such as:
The natural and permanent results of a hair transplant will surely boost your confidence.
We are aware that the hair transplant cost in Kochi is expensive at other premium centers. But, at La Densitae, we provide hair transplant treatment at the most affordable cost. Our patients need not worry about the cost as we have an EMI facility available at 0% interest rate.
Different Types of Hair Transplants Performed at LaDensitae Hair Clinic
1. FUT
:

Follicular Unit Transplantation (FUT) is a conventional technique of hair transplant in Kochi . In FUT, our surgeon removes a strip of hair-bearing skin from the donor region and dissects the strip into individual follicular units. Further, the surgeon transplants the grafts in the area that requires a hair transplant. At La Densitae, the cost of the FUT method for 1000 grafts ranges between Rs. 30,000 to Rs. 35,000.
2. AFUE
:

In the Advanced Non-touch or Bio FUE method, we blend the general FUE technique with Platelet enriched plasma to increase the survival of hair grafts for longer. In the AFUE process, our surgeon extracts the single hair grafts and soak them into the Platelet enriched plasma solution before transplanting them into the scalp. For AFUE, we charge between Rs. 20,000 to Rs. 25,000 for 1000 grafts.This technique is highly recommended as it gives natural results. Hence, it is one of the best methods of hair transplant in Kerala.
3. Real-time Non-touch FUE:
The objective of developing Real-Time Non-touch FUE was to lessen the hair graft harvesting time, avoid the use of chemical substances to retain grafts before implantation, and decrease the higher cost as required in the DHI hair transplant procedure.

RT-FUE includes side-by-side extraction and implantation of hair follicles. Thus, it is known as the Real-Time Non-touch FUE as there is no delay in the follicle extraction and implantation step. For RT-FUE, we charge between Rs. 25,000 to Rs. 30,000 per 1000 grafts.
About La Densitae Hair Transplant Centre, Kerala
La Densitae is a renowned and leading hair transplant centre in Kochi, Kerala. We are an excellent choice for best hair transplant in Kerala as we have a large number of satisfied patients.
Dr Gajanan Jadhao established La Densitae Clinic to treat patients suffering from hair loss and baldness. We function at six different locations across India.
La Densitae is well-equipped with state-of-the-art latest technologies and operation theatre for hair loss and skin care issues. We have FDA approved Diode Laser machine which provides high-quality results.
About our Hair Transplant Surgeon Dr Gajanan Jadhao & his team
Dr. Gajanan Jadhao, the founder of the clinic, is an experienced and famous hair transplant surgeon in Kerala. He has completed his Trichology/hair transplant studies from the University of Germany.
Dr. Jadhao is a skilled Trichologist with 8+ years of expertise in most advanced hair transplant techniques. Furthermore, he is known to transplant maximum hair grafts in a single session, making him one of the best surgeons for hair transplant in Kochi, Kerala.
Dr. Gajanan Jadhao has a team of highly trained and experienced doctors and technicians. Our staff has expertise in handling the latest equipment used in Hair Transplant and Cosmetic techniques.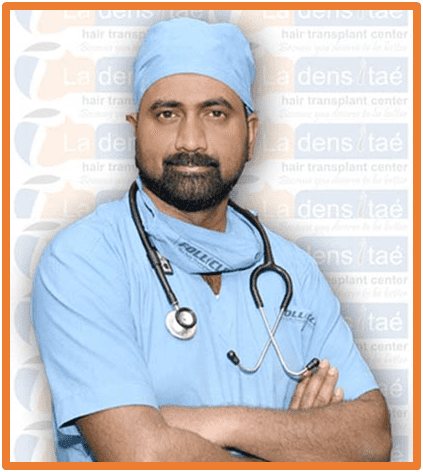 Why choose La Densitae Hair Transplant Centre in Kochi, Kerala?
When it comes to the best hair restoration clinic, La Densitae Hair Transplant Centre in Kochi is the best. Not many clinics can match-up to our level of expertise and success rate.
We have listed a few factors that make our clinic the number one centre for hair transplant in Kochi, Kerala.
The success of your hair transplant surgery depends a lot on the experience of the surgeon.That's why it is of utmost importance that you get your hair transplant done from a certified surgeon who has years of experience in carrying out this procedure.
Our clinic has highly-qualified doctors who personally conduct the procedure and are experts in all hair transplant techniques.
Further, we follow strict protocols in the matter of safety and hygiene. Our staff is warm and courteous and always ready to help and answer your queries. For us, our ultimate goal is customer satisfaction.
Apart from this, we have skilled and dedicated staff and technicians who assist the surgeon during the procedure.
With cutting-edge technology, we provide painless hair transplant in Cochin. So, you need not worry about excruciating pain and sleepless nights.
The cost of hair transplants at our clinic is affordable, and we also provide easy EMI options to our patients.
The success rate for hair transplants at our clinic, LaDensitae Hair Transplant Centre in Kerala, is very high. You are assured of natural-looking results with high coverage.
Successful hair transplant case studies at La Densitae– Kerala
Patient Mr. Shailesh visited our clinic with the problem of visible baldness. After scalp examination, Dr. Gajanan Jadhao diagnosed that he was suffering from androgenetic alopecia.
Dr. Jadhao implanted 4500 grafts using FUE hair transplant technique. Within the next 12 months, there was full hair growth on the bald area. To read more about this case, click here.
Just like this case study, we have done hundreds of hair transplant in Kerala making our patients happy with the natural results.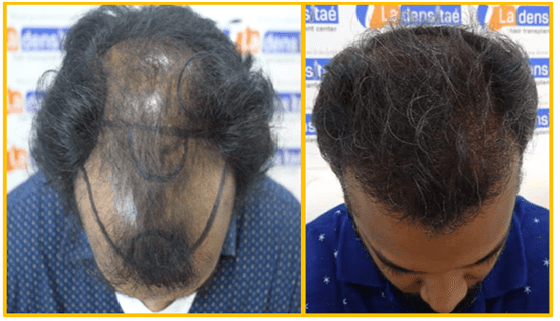 Clinic Images
La Densitae Hair Transplant Centre in Kerala provides world-class hair transplant at an affordable cost. We also offer all types of Hair and Skin treatments with top-notch facilities under one roof.
Frequently asked questions
How is a hair transplant done?
Hair transplant involves moving (transplanting) the hair follicles from the back of the scalp to the thinning or balding sites on the scalp. Since the hair follicles removed from the head and sides of the head are naturally resilient to hair loss, the hair transplant treatment is a permanent cure.
Will hair transplant results look natural?
Hair transplant can look so natural that nobody will be able to distinguish between normal and transplanted hair. The expertise and techniques of surgeons differ, and so do their final results. To ensure that you get the desired results from your hair transplant, you need to visit Ladensitae Hair Transplant Clinic in Kerala, renowned for its world-class services.
What is the cost of a hair transplant?
The cost of hair transplants is determined by the number of grafts transplanted, the type of technique, and the donor and recipient's complexity. The cost of a hair transplant usually involves check-ups and medications, although these can vary depending on each case. The surgeon examines the patient to determine how many grafts he or she needs before making a cost estimate.
How long does it take to have a hair transplant?
A single hair transplant session usually takes four to six hours to transplant around 1,500 to 3,000 hair grafts. It is performed as an outpatient procedure.
Is hair transplant a painful procedure?
Patients will be administered local anaesthesia in the donor and recipient regions. Almost all of the patients have confirmed that they experienced no pain or irritation during the procedure. However, some numbness and swelling in the treated area and slight pain can occur after surgery. The numbness, swelling, and discomfort will fade away within one or two days.
Does it take longer to recover after a hair transplant?
The incisions or cuts created in the scalp are minor and minimally invasive. After the hair transplant, you will feel better in a few days, but a minor swelling and numbness can last for a week.