La Densitae Hair Transplant Center based in Kochi is a top-notch clinic offering the best hair transplant cost in Kerala.
Founded by Dr. Gajanan Jadhao, it has several branches in Maharashtra and is counted among the top hair transplant centers for its excellent personalized services and outstanding results.
At La Densitae, you are assured high-quality, natural-looking results at an economical hair transplant cost in Kochi, Kerala.
Dr. Gajanan Jadhao is a proficient hair transplant surgeon who is well-versed with all the latest hair transplant techniques.Overthe years, he has introduced several innovations that guarantee excellent outcomes.
Hair transplant is the best and permanent solution for people suffering from hair recession and pattern baldness.
This technique has changed the lives of millions who were suffering from baldness. However, the cost is one major issue that is a concern for a lot of people.
We at La Densitae believe in customer satisfaction and pride ourselves on offering affordable hair transplant cost in Kochi, Kerala.
Generally, hair restoration cost depends on your level of baldness and the type of technique you choose.
We calculate the cost on per graft base. The starting range for hair transplant price in Kerala is Rs. 20 to Rs. 30 for each graft, consisting of 2 to 4 hair strands.
For cost comparison between each hair transplant technique, you can follow the table below:
| | | | |
| --- | --- | --- | --- |
| Number of Grafts | AFUE | Real-time FUE | FUT |
| 1000 -2000 | Rs. 20000 –Rs. 40000 | Rs. 37,000 to Rs. 50,000 | Rs. 30000 –Rs. 60000 |
| 2000 – 3000 | Rs. 40000 – Rs. 60000 | Rs. 50,000 to Rs. 75,000 | Rs. 60000 – Rs. 90000 |
| 3000 – 4000 | Rs. 60000 – Rs. 80000 | Rs. 75,000 to Rs. 1,00,000 | Rs. 90000 – Rs. 120000 |
| 4000 – 5000 | Rs. 80000 – Rs. 100000 | Rs. 1,00,000 to Rs. 1,25,000 | Rs. 120000 – Rs. 150000 |
| 5000 – 6000 | Package | Package | Package |
| 6000 – 7000 | Package | Package | Package |
Note: The above cost is just an estimation and is subjected to change.
To get a clear picture regarding the hair transplant cost in Kerala, you will have to visit our clinic. After an in-depth evaluation, our doctor will provide you with the exact pricing of the treatment.
Here at La Densitae, we provide many different hair transplant techniques, and the pricing for each of them is different.
1. Advanced Non-Touch Follicular Unit Extraction (AFUE)
We at La Densitae offer AFUE hair transplant, also known as BioFUE, a combination of FUE hair transplant and Platelet enriched plasma.
During this procedure, the doctor will extract individual hair grafts from the donor area and leave it in the Platelet enriched plasma solution for some time.
This helps to nourish the grafts, thereby boosting their survival rate and growth. This is one of the most sought-after hair restoration techniques at our clinic for its excellent results.

The AFUE hair transplant cost in Kerala is approximately Rs. 20 to Rs. 25 per graft. At La Densitae, we charge Rs. 20000 to Rs. 25000 for 1000 grafts.
However, we charge Rs. 25 per graft for this procedure if you have undergone this surgery before at another clinic.
2. Real-time Non-touch FUE
The purpose of formulating Real-Time Non-touch FUE was to reduce the graft harvesting time, prevent the use of chemical substances to protect hair grafts before implantation, and lessen the higher costs as in the DHI hair transplantation.

RT-FUE includes simultaneous extraction and implantation of hair follicles. It is known as the Real-Time FUE as there is no delay in the hair follicle extraction and implantation step. For RT-FUE, we take around Rs. 25,000 to Rs. 30,000 per 1000 grafts.
3. Follicular Unit Transplant (FUT)
This is the oldest hair restoration technique where the surgeon removes a strip of skin from the back of your scalp and extracts individual hair follicles from it. These grafts are then implanted in the bald area.

The hair transplant in Kochi price for FUT at our clinic is Rs. 30 to Rs. 35 per graft. For 1000 grafts, you will have to pay around Rs. 30000 to Rs. 35000.
Now, let's understand the different factors that affect the hair transplant cost in Kerala.
Each individual is unique, having different issues and requirements. We calculate the exact cost according to the following factors:
The underlying reason for baldness:
During the consultation, we examine your scalp and hair and check your medical history to understand your hair fall's root cause. We believe in providing holistic treatment so that you can achieve a long-lasting result.
Calculating the grafts requirement
According to your level of baldness and texture of your hair, we will calculate the total number of grafts needed. Generally, we implant 50 grafts per sq. cm so that you achieve fuller density.
Hair transplant technique
Your hair transplant cost in Kochi depends on the method you choose for undergoing hair restoration. Direct Hair Transplant is costlier than AFUE and FUT. The number of hair grafts required and the technique used majorly decides the hair transplant cost in Kerala.
The side and the back of your scalp is your donor area. The hair from this area is resistant to hair fall. For full coverage, having a healthy donor area is necessary. If the donor area is insufficient, we at La Densitae offer a Body hair transplant. We remove the hair from different areas of your body to provide full coverage. This type of hair transplant will cost you more. The per graft cost for extracting hair from the beard is Rs. 25 and from the chest area is Rs. 30.
Why choose La Densitae Hair Transplant Center?
Advanced technology – Our state-of-the-art clinic is fitted with the latest technology and equipment such as FDA approved Diode Laser Machine. Under the guidance of Dr. Gajanan Jadhao, we keep ourselves updated with newer development in hair transplants.
No pain surgery – At La Densitae, we use the No-Needle-Technique for anesthesia so that you do not have to endure any pain. We aim to provide you a comfortable and anxiety-free experience.
No-Touch technique – For FUE, we provide a No-Touch technique, wherein the grafts are not touched by hand during the whole procedure, thereby increasing the graft survival.
Graft storage –Our clinic is fitted with Fixed Temperature Regulator machines that maintain an optimum temperature throughout the surgery. This helps to keep the grafts at a steady temperature best suited for their survival.
Innovative techniques –For a higher level of baldness, we offer a hair transplant that combines FUE, FUT, and Platelet enriched plasma technique.
Experienced doctors –At La Densitae, we have highly qualified doctors who have years of experience in this field. They are known to provide comprehensive hair restoration treatments.
Cost: Most importantly, we offer the most affordable hair transplant cost in Kerala. We also provide easy EMI options at 0% interest rate.
Successful hair transplant at affordable cost at La Densitae – Kerala
Mr. Shailesh consulted Dr. Gajanan Jadhao to find a solution to his visible baldness. After scalp examination, he was diagnosed with androgenetic alopecia.
Dr. Jadhaoimplanted 4500 graftsusing FUE hair transplant technique which costed approximately between Rs. 90,000 to Rs. 1,00,000. Within the next 12 months, there was full hair growth on the bald area. To read more about this case, click here.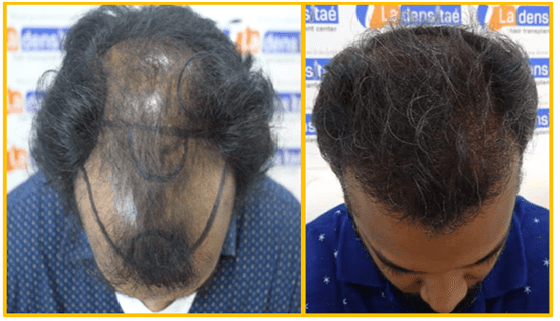 Frequently Asked Questions
Does your hair transplant center offer an EMI facility?
Yes. We provide an EMI payment facility to our patients as hair transplant is a cosmetic procedure; any insurance plan rarely covers it. The benefit of opting for our EMI facility is you can flexibly pay the amount.
Will the transplanted hair appear natural?
Yes. The transplanted hair looks natural if done by FUT, FUE, Real-time Non-touch FUE, DHI methods. But it may give an unnatural look if performed with an outdated punch hair transplant method.
How long does it take for transplanted hair to regrow?
Typically, the transplanted hair falls out after 15 to 45 days of transplant. Nothing to worry about; it is common after every hair transplant procedure.
When can one see the final results of a hair transplant?
The transplanted hair starts growing after three to four months of transplant. However, the desired looks are visible usually after 8 to 12 months.
How long does the transplanted hair last?
As the transplanted hair is removed from the patient's scalp or body's donor site, they never fall again and are permanent.