Everything you need to know about eyelash hair transplant in Pune
During COVID-19, wearing a mask has become the new normal, and the eyes have unquestionably become the face's focal point.It's no surprise that demand for eye makeup and over-the-counter eyelash treatments has soared, particularly for products and services that promote longer-lasting lashes.
Eyelash hair transplant in Pune is another method for modifying the appearance of thin lashes. When done correctly by a board-certified hair transplant surgeon in Pune, the effects of this surgery may last longer than lifts and traditional lash extensions.
Keep reading to learn everything you need to know about eyelash hair transplants.
What is eyelash hair transplantation, and how does it work?
"Eyelash transplantation involves transplanting hair from one part of the body (usually the back of your scalp) to the eyelash area (upper or lower eyelid) using FUE technique," says Dr. Gajanan Jadhao, a well-known hair transplant surgeon in Pune. "This ensures a thicker and longer lash appearance," he stated.
While eyelash transplant may look to be a complicated and costly procedure, Dr. Jadhao says it is not as complex and expensive it appears. At Ladensitae Clinic, we offer inexpensive eyelash hair transplant cost in Pune, said Dr. Gajanan.
According to Dr. Gajanan Jadhao, those with genetically short (or sparse) eyelashes and people with trichotillomania, a mental disorder characterized by pulling lash hairs, may be suitable candidates for the procedure.
Now, let's know more about,
Who is eligible for an eyelash hair transplant?
Eyelash transplant surgery is usually appropriate for those in good health and who do not have any underlying medical issues. However, some patients may want to consult their doctor before undertaking an eyelash hair transplant in Pune.
Patients with autoimmune illnesses that induce lash loss may not respond well to this procedure, and those on blood thinners or who are prone to infection are also at risk of complications.
Let's know the Steps of Eyelash Hair Transplant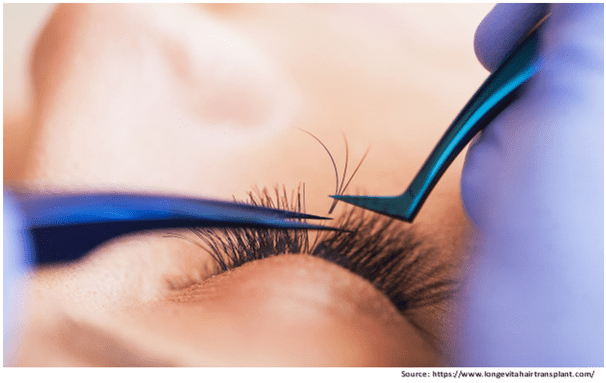 The procedure starts with measuring and removing hair from the back of your head.
Your surgeon may use scalp hairs to grow new eyelashes during the procedure.
After removing enough scalp hair, your eyelash area is prepped and numbed. Pain in the scalp and eyelid areas is relieved by a local anesthetic.
Then, the surgeon implants new eyelash hairs one by one. The procedure takes between 2 to 4 hours to complete.
What is the status of recovery after eyelash transplant?
Swelling and bruising of the eyelid area are common for days to weeks after an eyelash transplant procedure. However, the back of your head where the lashes were taken heals typically in a few days with minor pain.
After the transplant, the implanted hairs on your actual lashes should begin to fall off. This causes new hair shafts to grow over 4 to 6 months.
The crusts usually fall out 5 to 8 days after the procedure, along with the transplanted hairs. New hair shafts will begin to grow and form during the 4 to 6-month interval.
Because eyelash transplant surgery's effects take time to manifest, the results should be noticeable at least one year after the process. All hairs may take longer to reach their full length.
Now, let's discuss more about,
Results of Eyelash Hair Transplant
The recuperation time for this procedure is more than for other lash treatments, which may be undesirable to those who want quick results.
Eyelash hair transplant necessitates a longer recovery time than lash extensions. It takes time for the lashes to reach their full potential after eyelash transplant surgery.
Risks of Eyelash Hair Transplant
With any procedure, there are some inherent risks. Here are some of them associated with eyelash transplant:
Discomfort
Bruising
Unattractive appearance
Infection
How long do transplanted eyelashes last?
Because eyelash transplant surgery is technically a type of hair transplant surgery, it is claimed that it will have a longer-lasting effect than lash extensions, which need maintenance every 6 to 8 weeks.
On the other hand, lashes will require regular maintenance. It's because they could get too long and need trimming.
Long-lasting and natural results:
Eyelash transplant surgery offers its own set of advantages because it is a sort of hair restoration surgery. Here are some of them:
It gives you long-lasting effects that no other eyelash treatment can match.
It utilizes natural hair to construct lashes rather than synthetic hair.
Takeaway
An eyelash hair transplant may appear to be a complicated technique at first. According to experts, this hair restoration procedure results in longer, more natural, and permanent lashes.
While permanence is an essential benefit of the treatment, it's equally important to examine the drawbacks:
It is a slightly costlier procedure, rarely covered by insurance.
Lashes must be maintained after transplantation.
There is a chance the surgery won't go as planned.
Despite these limitations, people who have had their eyes damaged or genetically predisposed to having sparse lashes may choose to pursue this procedure.
Look for a board-certified surgeon in Pune, such as Dr. Gajanan Jadhao, to ensure that the treatment is conducted safely.